Money worries can get us all down from time to time, or may worsen existing mental and wellbeing problems, but you do not need to face these problems alone.
Here are links to further sources of support to help you through the cost-of-living crisis.
NHS inform: Coping with money worries
NHS inform, Scotland's national health information service, has a dedicated Coping with money worries webpage, featuring videos and sources of support for practical advice about money worries and the cost of living.
Mental health and money advice
The Mental Health and Money Advice webpage provides resources on managing your money and mental health.
Advice about debt management
National Debtline can give free impartial advice and their cost of living hub gives information about extra help that might be available to you.
Information for young people
The YoungScot website is updated regularly with new offers, tips on saving money, benefits and links to mental health support.
Information for older people
Age UK has collated information to help older people feel more in control of their finances.
If you need urgent support
If you need urgent help and would like to speak with someone right now, please contact one of these organisations: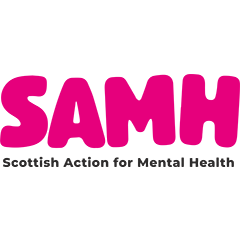 SAMH Information Service
Whether you're seeking support, are looking for more information for you or someone you love, or if you just want to have chat about mental health, we're here to help. You can also speak to an advisor through our Live Web Chat which will pop up when an advisor is available.
Available: 9am to 6pm, Monday to Friday
Phone: 0344 800 0550
Email: info@samh.org.uk
Please click below to view our useful resources, or to learn more about the SAMH services available to support you right now.